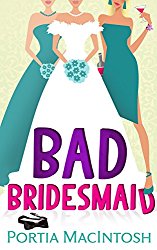 'My wedding is ruined and my marriage is going to fail. And it's all your fault!'
LA romcom writer Mia Valentina has it all; money, success, a tanned and toned body, golden blonde hair and a string of sexy lovers. She's almost forgotten her previous self: plain old Mia Harrison. Until a wedding invitation arrives requesting (demanding!) her presence as chief bridesmaid at her younger sister Belle's upcoming nuptials.
Mia's barely been back in England before she's accidentally injured the groom, unintentionally 'cursed' the wedding and been caught in a compromising position with her sister's soon to be brother-in-law!
With the wedding of the year going dangerously off the rails, Mia has no time to waste – especially with sexy fireman and best man Leo on hand to help… Will she use all of her expert romance knowledge to save the day or will she just walk away? No one ever said a bad girl had to turn good…
You can now read the sequel You Can't Hurry Love to find out what happens next with Mia.
Praise for Portia MacIntosh
'How Not to be Starstruck was impossible to put down, hilarious, fun, flirty and packed with excitement.' – Victoria Loves Books
'A brilliant story full of fun, gorgeous rockstars, big egos and great friendships.' – A Novel Thought
'if you are looking for a fictional tale of outrageous excess and the rock star life it is well worth a read.' – Books with Bunny
'For a Sex and the City meets Gossip Girl meets "Life of the rich and famous" -vibe: get yourself a copy of both Portia's novels. Very, very enjoyable read and can't wait for more!' – M's Bookshelf
'I can not recommend this book highly enough, it is a must read for any one fancying a light heart and humour read, which can be devoured in one sitting.' – Compelling Reads