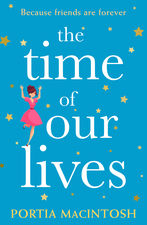 The Time of Our Lives
What happens when your past meets your present?
Luca is used to being 'the single one' – which is partly why she dreaded going to the wedding of an old university friend. Surrounded by faces she hasn't seen in 10 years, Luca can feel herself being sucked back into the immature, decade-old gossip that no one seems to have forgotten.
But when Tom walks in, Luca's heart stops. He was her 'almost boyfriend', and she had been completely swept off her feet by him… but he's currently standing next to the girl he broke her heart with at a party all those years ago.
As the evening draws on and the champagne continues to flow, it's clear that Tom can't take his eyes off her. Will Luca's luck in love finally take a turn?