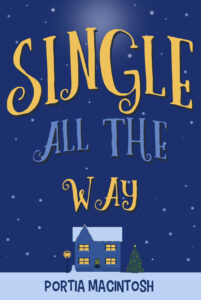 Lexi Newman is coming home for Christmas… she should have called first
The silver lining, when Lexi is dumped by her long-term boyfriend, is that she's finally going to get to enjoy a family Christmas after years of doing whatever her ex wanted to them to do. The only problem is that Lexi hasn't called ahead to let her parents know she's coming…
Lexi arrives at her childhood home only to realise that her parents have decided to go on holiday for the festive season this year. With nowhere else to go, and no one else to stay with, Lexi is going to have to spend Christmas home alone in her parents' big house, but the bigger the house, the emptier it seems.
With her nosy neighbours suspicious and her childhood friends asking her all about her life, Lexi lies that she's here to use her parents' house for a big Christmas party while they are away, but as more and more people find out about the party, it's going to take a lot more than some loud music and some flashing lights to convince everyone that she isn't alone.
With just 12 days to go, will Lexi find someone to spend the holidays with, or will she be home alone for Christmas?
Single All The Way is a festive novella. Perfect for fans of Sophie Kinsella, Holly Martin and Jo Watson.
Readers love Portia Macintosh!
'A hilarious, roaringly fun, feel good, sexy read. I LOVED it!' Holly Martin
'Portia's books just get better and better!' Got Books, Babe?
'Hilarious and refreshingly brilliant!' – The Writing Garnet
'I just couldn't put it down!' – Sweet Is Always In Style