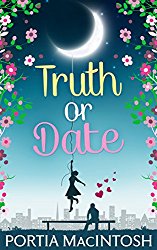 Truth or Date
Falling for the man of her dreams…
Ruby Wood is perfectly happy playing the dating game – until she has a red-hot dream about her very attractive flatmate, Nick. He might spend every day saving lives as a junior doctor, but he's absolutely the last man on earth that fun-loving Ruby would ever date!
The solution? Focus on all of Nick's bad points. And if that fails, up her dating antics and find herself a man! So what if she manages to make disapproving, goody two-shoes Nick jealous in the process…
Only, after a series of nightmare first dates, there's still just one man on Ruby's mind. Maybe it's time to admit the truth and dare to ask Nick to be her next date?