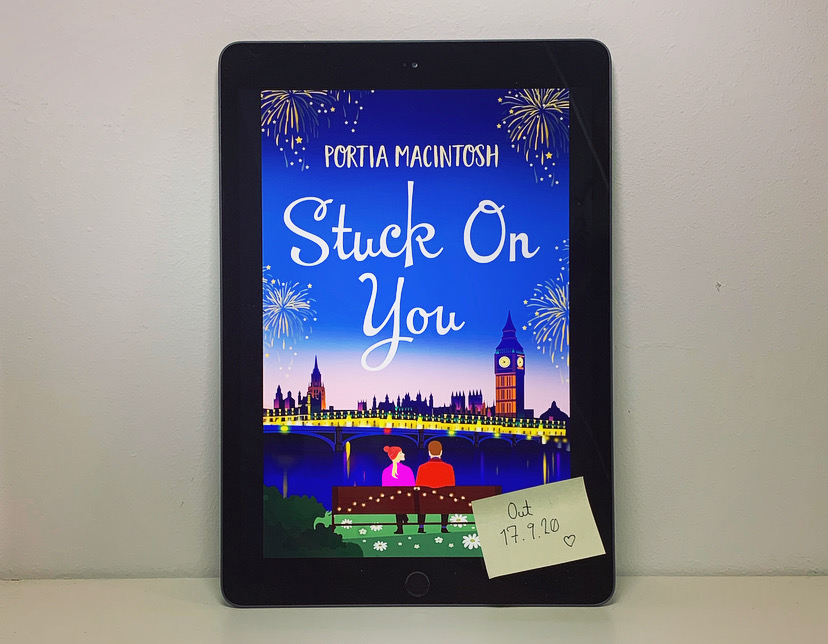 Behind the book: Stuck On You
Today sees the cover reveal for my forthcoming novel (and my 17th published title) Stuck On You.
Stuck On You follows the life of Sadie Kirke – an assistant to famous portrait photographer (well, if you know photographers) Damian Banks. Sadie thought working for a legend was going to give her a leg-up in the art world but instead she's feeling down because all Damian really wants her for is doing his dry cleaning and dumping his never ending stream of girlfriends. The only thing Sadie does like about her job is her close relationship with her desk-share buddy, Adam. Adam is smart, funny, and absolutely gorgeous – the only real stumbling block in their relationship is that they haven't actually met, because Sadie and Adam only work in the office on different days.
I am a reformed journalist (I'd rather be making up stories for novels than newspapers *big wink*), but back when I was working in offices I would often have to hot-desk, meaning I'd be sitting somewhere different every day – somewhere someone else had been sitting the day before. When you're sitting at a desk that isn't yours, you really can find anything – someone's half eaten lunch, their contraceptive pills – all sorts of weird and wonderful things. But when you're sharing a space with someone you don't actually see in real life, how do you communicate with them? I think you'll agree, in an office, if someone has left a forgotten smelly sandwich in their desk drawer, there is no more effective way of flagging this up than a passive-aggressive post-it note.
Offices are full of post-it notes – I know mine is, I absolutely love them. In fact, my entire home is full of post-its, either because I stick them all over the office wall, with big serial killer energy, to plan my chapters, or because I use them to leave notes for my fiancé to remind him of things. I even leave notes for myself sometimes.
I loved the idea of Sadie and Adam swapping notes about the boss, and their day-to-day lives, but by the time Sadie gets a new job offer, she realises she's needs to take things IRL with Adam if she wants to keep him in her life.
With just days to go until Christmas, terrified to give her notice because she knows how much Damian relies on her, a guilty Sadie winds up inviting Damian home for Christmas with her family when she realises he'll spend it alone if he doesn't spend it with her. What Sadie doesn't tell him is that Kirke family Christmases are pretty intense. Ah well, perhaps it won't matter that she's too scared to give her notice, somewhere between the annual Dickens Festival and going to the cinema in their pyjamas, Damian might just quit anyway.
I really hope you enjoy this book – fans of my Marram Bay novels will notice a few little nods to the gorgeous seaside town, and if you've read My Great-Exscape you might find a character from that book putting in an appearance – I guarantee it's the last person you'd expect it to be.
Stuck On You is published in all formats on 17.9.20. Click here to pre-order a copy.